Donor Story: Newborn Mothers Fund
The Newborn Mother Fund was established by local entrepreneur Julia Jones.
Julia Jones is a doula, author, entrepreneur and philanthropist. She has trained hundreds of postpartum professionals around the world through her Australian College of Midwives recognised online course Newborn Mothers Collective. She is also the author of Newborn Mothers: When a Baby is Born, so is a Mother and Nourishing Newborn Mothers – Ayurvedic Recipes to Heal Your Mind, Body and Soul after Childbirth.
Giving has always been central to Julia's business model. Every week Julia sets aside 4% of her revenue into an account for her giving, and once a quarter those funds are donated into the Newborn Mothers Fund, managed by the Fremantle Foundation.
"In the long run this means my giving is much more sustainable and strategic, and I will be able to keep granting money in the future regardless of how my business is going. I could actually stop working altogether and still have money to grant every year, and if I grant less out now then my funds will grow through compound interest so in the long run I'll be able to grant more".



Julia Jones, Newborn Mothers Fund
The Newborn Mothers Fund exists to support women and girls, and the environment.
This year, after some strategic granting discussions with staff at the Fremantle Foundation, the Newborn Mothers Fund has chosen to support Marie Stopes International Australia (MSIA). MSIA supports vulnerable women and girls in Timor-Leste, Papua New Guinea and Cambodia get the sexual and reproductive services they want and deserve.
"As a mother - and having experienced an unplanned pregnancy myself - I know the impact that babies have on women's lives in a multitude of ways! Having a baby is not an easy undertaking and I was in the fortunate financial, health and social position to be able to keep my baby, but many women around the world are not so lucky. There are 214 million women in developing regions who currently do not want to become pregnant but do not have access to any family planning services".

Julia Jones, Newborn Mothers Fund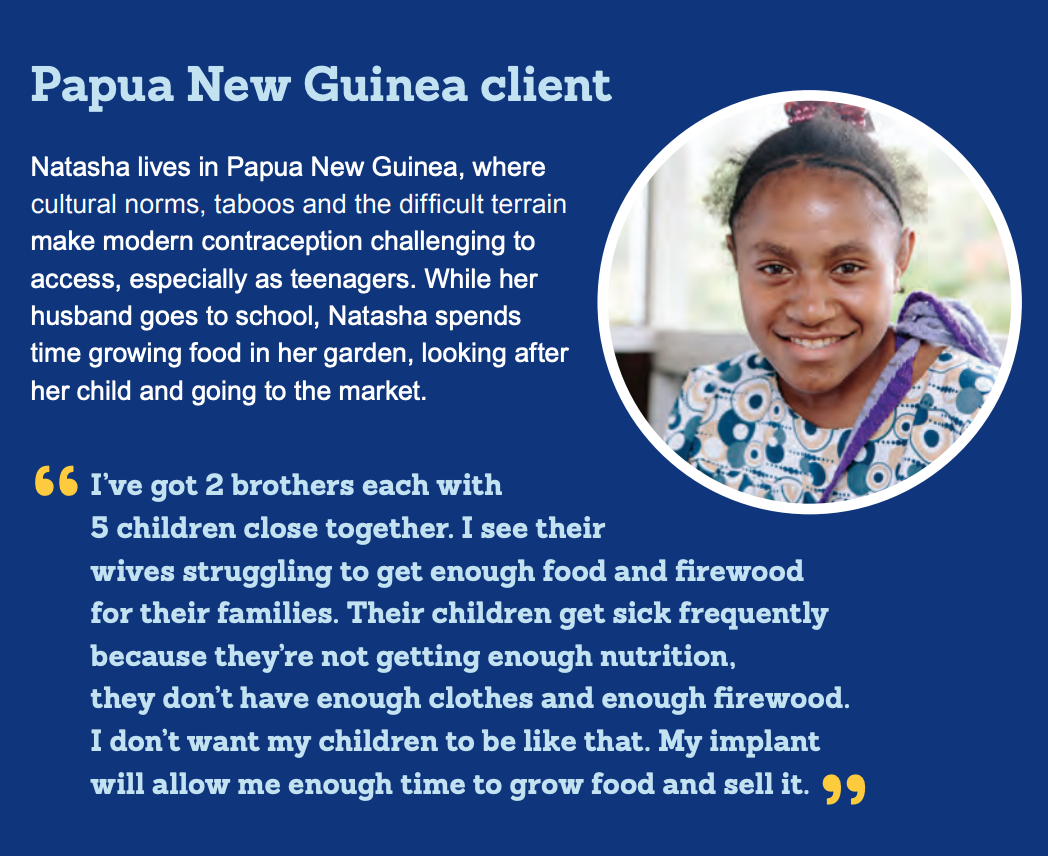 Family planning and education for women and girls are also key to addressing climate change and global warming, according to Draw Down – The Most Comprehensive Plan Ever Proposed to Reverse Global Warming. Sexual and reproductive health offers a practical solution to climate challenges, mitigating and preventing a variety of consequences resulting from extreme weather events and natural disasters, unsustainable population growth and rising sea levels including:
Poverty reduction and strengthening economies

Sustainable population growth

Women's participation and leadership